Fourth International Congress on hydroponics in Mexico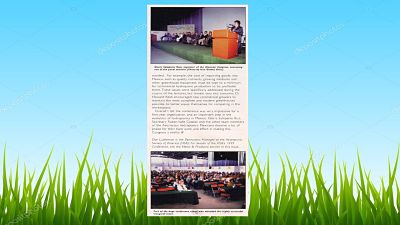 By Rebecca L. Nelson
Cultivo Sin Tierra (cultivation without soil) was the theme of the 4th International Hydroponics Con­gress and Course in Toluca, Mexico. This bi-annual event, organized by Asociaion Hydroponica Mexicana, took place April 1-3, 2004. The focus of this conference is to promote simplified hydroponics as a means of feeding people and to emphasize the potential of large commercial hydroponic facilities as a source of jobs and income.
Another objective of the conference is to make known the achievements and perspectives of countries where hydroponics is a prominent sector of agriculture and to provide a format in which growers can learn about new hydroponic techniques and methods employed in these countries.
The interest in hydroponics and the production of hydroponic crops is growing rapidly around the world. Traditional Agriculture is yielding to new technology and, specifically, to hydroponic technology because it uses less water, produces greater yields, is gentler to our environment, decreases the use of pesticides and eliminates the need for herbicides.
México has played an important role in the history of hydroponics. One of the earliest examples of hy­droponics dates back to the 11 th century when the Aztec Indians used floating raft gardens, called chinampas, to grow food here in central Mexico. These rafts were made from reeds covered with soil and planted with crops. The chinampas floated on the surface of a lake and the plant roots grew down into the lake for food and water.
Today, Mexico is home to massive hydroponic farms, some over 100 acres in size, and annually providing thousands of tons of fresh tomatoes, cucumbers, lettuces and herbs to consumers trough out Nort America. These farms utilize highly productive and innovative methods. Also found in Mexico are smaller, simplified hydroponic systems use for growing food for families and villages.
Asociacion Hidroponica Mexicana has the important role of disseminating information about all types of hydroponic systems to Mexico, Central an Latin America. Expanding the use of simplified hydroponic systems is paramount in helping to improve the diet of individuals and families in impoverished areas and also provides a means of growing food in areas and where the soil is not fertile. Encouraging support of large hydroponic installations helps to create jobs and has a positive eco­nomic impact in the surrounding area.
The president of the Asociacion, Senora Gloria Samperio, works year-'round toward the goal of increasing awareness of hydro­ponics. She accomplishes this through an enormous amount of dedication and hard work and her efforts include teaching workshops, publishing books on hydroponics and organizing this excellent conference. Gloria deserves appreciation and thanks for all of her efforts, her boundless energy and for bringing hydroponics into the lives of so many.
Industry experts from Mexico, New Zealand, Holland, Peru, Germany, Chile, the United States, Argentina and Spain de­scended upon the town of Toluca to share their knowledge of hydroponics with the 500+ conference attendees.
These speakers shared information about the latest advancements in the industry as well as how simplified hydroponics can be used to provide income and improved nutrition in economically depressed areas. This conference gave the attendees the opportunity to ask questions of the experts as well as to learn from the experiences of their fellow attendees.
With speakers from around the world, there were many languages spoken at the conference. The presentations were simulcast in English and Spanish.
The conference began with an opening ceremony in which the speakers were introduced. During this ceremony I had the opportunity to share an opening greeting and overview of the industry on behalf of Dr. Otto Silberstein, who wasn't able to attend.
The three days of the conference were filled with interesting presentations and the attendees showed great interest.
Quim Luis Manuel Guerra, Universidad Nacional Autónoma, Instituto de Monitoreo Nacional, México, spoke on polinization in hydroponics.
C .P. Gloria Samperio, Presidenta de la Asociacion Hidroponica, Toluca, Mexico presented a session on plant germination techniques.
Simon Lennard, of Suntec in Tokomaru, New Zealand did three presentations throughout the conference. Simon covered hydroponic lettuce production, hydroponic strawberry production and hydro­ponic orchid and anthurium production.
Dr. Cees Sonneveld of the Glasshouse Crops Research Association of The Netherlands spoke about the compositions of nutrient solutions and the ef­fects of salinity of substrate-grown greenhouse crops.
Biol. Mg.Sc. Alfredo Rodriguez Delphin, Universidad Nacional Agraria, La Molina, Lima, Peru, presented two papers. One on the cuitivations of hydroponic tomatoes in Peru and the other on the production of soilless lettuce.
Professor Dr. Fritz-Geraid Schroder, HTW University Dresden, Germany, spoke about aeroponic and hydroponic techniques in one presentation and vegetables grown in different hydroponics systems in another.
Dr. Deiores Roca, Department of Horticulture, Instituto Valenciano de Investigaciones Agraria, Valencia Spain, covered the management of hydro­ponic substrates and biological pest control for greenhouse crops.
Dr. Juan Figueroa Vera, from the University of Santiago, Chile and a Collaborator to the FAO, spoke about critical control points in hydroponics and shared a presentation of the CD-Rom project about urban and suburban agriculture he worked on for the FAO.
John Pade and I did presentations on aquaponics. The first was an introduction to aquaponics and covered home food production and basic system designs. The second presentation was about commercial aquaponics. Each of our presentations on aquaponics generated an incredibie amount of interest, many questions and much enthusiasm. Several people pointed out that in many locations in Mexico it would be easier to obtain fish food to use in an aquaponic systems than hydroponics fertilizers to use in a hydroponic system. The dual crop of fish and plants was of interest as well. In many areas a jack of protein and vegetables exists and aquaponics can help to fu that void.
Lic. Carlos R Arano of Buenos Aires, Argentina, presented information on equipment for C02 en­richment in greenhouse culture and microorganisms and fodder production.
Dr. Felipe Cuenca Mendoza, Department Q Ali­mentos, University Autónoma, State of Méxcio, Mexico spoke about the advantages of hydroponic nutrients.
Ing. Dieter Oellerich of Chooper Light Proyec, in patnership with Humbolt University in Berlin, Germany, shared information on his work with Chopper Light, an energy-saving niethod of plant lighting.
Dr. Miguel Urrestarazu Gavilan, Department of Horticulture, University of Spain, presented a pa­per on climate control in soilless cultivation and plant irrigation and fertigation.
A trade show area showcased local as well as international hydroponic equipment suppliers. This area was active with a steady flow of attendee traffic visiting the vendors.
This conference is like a three-legged stool, with each of the three supports . . .the organizers, the eager-to-learn attendees and the internationally renowned speakers, required for success.
Senora Gloria Samperio Ruiz and her many friends and family who helped to organize the conference did an excellent job. Everyone involved was very helpful and made us feel most welcome. The hos­pitality they offered was excellent, the meals first-class and the post-conference tours interesting, educational and fun!
The attendees were the most interested and attentive group I've ever seen at a conference. I saw many meticulous note—takers filling entire note— books with conference information. The days were long, close to 12 hours, but that didn't dampen the enthusiasm of the attendees. Their eagerness to learn and willingness to listen made it very enjoyable to be there to share information. I met many wonderful people and ¡ appreciate their kindness and interest.
The speakers from around the world offered another interesting aspect to the conference. Being such a diverse group, the conversations and interactions were very interesting. Each person works in the same industry but has their own perspective, focus, interest and expertise. Our evening conversa­tions ranged from the latest technological break throughs to discussions of culture, language, art and food. Many laughs were shared by the group and many fin moments emblazoned in our memories.
About the Author: Rebecca L. Nelson is the editor
Of Aquapouics Journal. She can be reached by email at nelson@aquaponics.com or by phone at
209-742-6869.
For information on the next International Congress and Course on the Hydroponics in Mexico, contact Senora Gloria Samperio Ruiz, President, Asociacion Hidroponica Mexicana, by email at: anilusa@prodigy.net.mx